Company Factory
If you've always dreamed of building your own furniture, but aren't sure that you have the required skills, J4KID is providing you with a background of material advice and a design frame work to get your ideas off the ground.
Workshop - Upholstering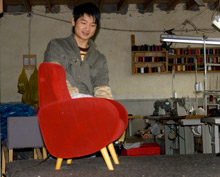 J. Zhang has her roots in furniture for restaurants, bars and hotels. In 1996 she setup Link-J furniture which provides custom build furniture for restaurants and bars all over Shanghai. Custom made chairs and sofas for hospitality made in a special way, because we handle those special furniture demands, where skilled craft and contemporary design need a personal approach. Apart from the local market in Shanghai, where it all started, we are exporting now to the US, Africa and Australia. Welcome to discover our products and feel free to contact us for further info.

Workshop Wood
Since the beginning J. Zhang understood the importance of employing highly skilled wood workers in a well organized and safe wood workshop equiped with top quality equipment. Quality furniture is born here. The wood workshop works closely together with the design department.




Workshop Paint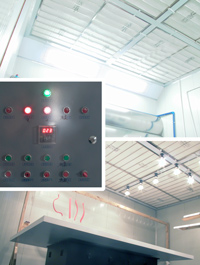 A brand new spray paint booth has been installed in 2008. We obtain an excellent finish due to the dust free paint cabin.
Additionally we feature an electronic controlled drying room. This to ensure quality of goods and optimal work environment for paint technicians.
We use the highest quality paint and paint equipment. Part of the J4KID quality-commitment is that paint is selected based on child safety (water-based) parameters and its resistance to cracking and wear.
Assembly
Not all parts are made in our factories. The assembly workshop is the place where parts made by other suppliers are inspected and further prepared for integration into the final furniture.