Child Safety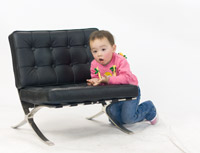 Leather
Leather is an excellent furniture material for families with kids. With small children around, milk and juice spills are simply inevitable, not to mention food spills, crayon markings and pet hairs. Leathers don't absorb minor liquid spills as easily as fabric or cotton-made furniture does. Therefore, all these are easily cleaned and wiped off with cold water and a soft white cloth or tissue. Also, leather furniture does not collect and hold pet hairs and other shedding as fabric does. Pet hairs and furs can be removed very easily, unlike fabric and cotton-made furniture.
Fabrics
The fabrics featured in our J4KID collection come from the very best mills featuring outstanding craftsmanship, unique beauty, and quality of design and do not represent any safety issues.

Paint
Find more information on J4KID paint selection criteria and paint safety issues here.