Company HISTORY
In 2006, J. Zhang was searching for a bed for her two-year-old daughter and could not find one. Spurred by her vision for the ideal piece of children's furniture, J. Zhang sat down at her drawing table and designed the bed that she pictured her little girl would love. J. Zhang was pleased with her creation so she continued creating furniture for children, until she had a set of beds, cots and chairs. This lovely collection represented a new category in children's furniture but more importantly planted the seed for a larger concept.
Before 2006

J. Zhang has her roots in furniture for restaurants, bars and hotels. In 1998 she started
Link-J furniture
which provides custom build funiture for restaurants and bars all over Shanghai. Chairs and sofas made for hospitality answerring those special furniture demands, where skilled craft and contemporary design needs a personal approach. Apart from the local market in Shanghai, where it all started, she exports now to the US, Australia and Africa. Discover her products
here
.
2006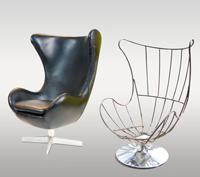 Clients are the designers in the bussiness of J. Zhang. They brought and continue to bring in new ideas and helped her develop the concept of building design furniture for children. With her experience in sourcing different furniture building mateials, dealing with assembly issues J. Zhang had the ideal background to start with J4KID design furniture for children.
2007
J4KID's founders have a solid background in business, design and families. J. Walshe, mother of two, left a 8-year teaching career to join forces with J. Zhang and is now a successfull businesspartner and project manager. Together, they run J4KID with a strong passion for the needs of the modern family and an unerring sense of style.